Edition comparison Loftware NiceLabel: Cloud & On-premise
NiceLabel Cloud

Essentials

NiceLabel Cloud

Compliance

Label Designer and Application builder

Cloud Document Management System (DMS)

Document storage space (1GB)

Print history (3 months)

Document storage space (5GB)

Print history (1 year)

Organizational Users (Active Directory integration & OpenID Connect)

Document storage space (5GB)

Print history (12 years)

Organizational Users (Active Directory integration & OpenID Connect)

Quality Assurance

One default approval workflow

Role based access

Approval workflows

Role based access

Change and transport system

Approval workflows

Role based access

Change and transport system

Development, QA and Production environment

Web printing

Cloud enabled IoT printers (driverless printing)

System Validation

Validation Acceleration Pack

Test reports for every release

Yearly compliance release schedule including 3-months' testing period

Data integration

Excel online & Google Sheets​

Access & Excel​

3rd party databases​

Simple one way data integration with on-premise business systems

Excel online & Google Sheets​

Access & Excel

3rd party databases

Included SQL cloud database (5GB)

Integration system:

Integration with cloud busines systems
Integration with on-premise business systems
Data synchronisation

Excel online & Google Sheets​

Access & Excel

3rd party databases

Included SQL cloud database (5GB)

Integration system:

Integration with cloud busines systems
Integration with on-premise business systems
Data synchronisation

Support

Partner network & email

Priority email and phone during regional office hours (Standard Support)

Priority email and phone during regional office hours (Standard Support)

Options

SQL cloud database (1GB)

Extended print history (1 year)

Standard support

Standard sandbox environment

Extended print history (5 years)

Platinum support

Platinum support
Looking for more details?



LMS

Pro

Basic Label Management System




LMS

Enterprise

Full featured on premise Label Management System for business of any size

Document Management System

Security and Storage

Full digital DMS:

Security and Storage
Quality Assurance and Traceability
Non-production environments
Change and transport system

Label Design and Application Builder

Manual On-demand Web Printing

Integration System

limited

Fully featured:

prebuilt SAP integration
Web services integration
Advanced workflows
Failover and load balancing support
Looking for more details?
Loftware NiceLabel Cloud FAQ
Are there trials available for NiceLabel Cloud?
Yes, a free 30-day trial is available. You can request a trial on our website or from your supplier of NiceLabel software.
If I subscribe during or after the trial, can I keep my label templates and data?
Yes, you can continue using the existing system and settings. We will just convert your trial into a payable subscription account.
What are the limitations of the trial account?
Besides time, there are no other limitations and all features of the selected product can be evaluated.
How do I add more printers to my subscription? Can I add them any time?
You can add more printers to your subscription at any time. We will invoice you for the additional printers at a prorated amount to align with your current subscription.
What SLAs are in place for system availability and uptime?
We openly showcase the reliability of NiceLabel Cloud on our NiceLabel Cloud Status pages where you can view live status information on the services that are part of NiceLabel Cloud platform.
The status page is accessible at: https://status.onnicelabel.com. We guarantee 99.5% service uptime for NiceLabel Cloud. While the service can also deal with connectivity interrupts, reasonably reliable internet connectivity needs to be assured by the end user.

What happens if the internet connection to NiceLabel Cloud is lost?
Uninterrupted label printing is NiceLabel Cloud's most mission-critical process. NiceLabel web applications are designed to run in offline mode so you can still print while being offline.
With system configuration, you can print in offline mode for up to 5 days. After a connection is re-established, NiceLabel Cloud will also synchronize print history to the document management system.
For more information, see the knowledge base article "Offline Access".
Where are you hosting the application and data?
NiceLabel has many years of experience of offering Cloud labeling solutions to some of the most demanding customer environments. NiceLabel Cloud is hosted on Microsoft's reliable Azure platform, ensuring world-class infrastructure and availability.
NiceLabel Cloud architecture prioritizes high security and availability and eliminates single points of failure with multiple redundancies. We work in collaboration with Microsoft architects to build NiceLabel Cloud following best practices.
Microsoft features NiceLabel Cloud in their global catalogue of Azure-based solutions.
How do you ensure security?
NiceLabel makes significant efforts to ensure NiceLabel Cloud security. We implement the latest security standards and perform automatic and manual NiceLabel Cloud security checks.
By running on Microsoft Azure, NiceLabel Cloud inherits many platform and infrastructure security approaches and best-practice implementations.
We're committed to providing you trustworthy service while applying policies, technologies, and controls to protect data you entrust to NiceLabel Cloud.
What security testing has been conducted on NiceLabel Cloud?
NiceLabel commissioned a web and desktop application security assessment and vulnerability test (including penetration testing). It was conducted by Viris d.o.o. using the OWASP Testing Guide.
NiceLabel will continue to commission periodic testing with all future product releases. Viris is a leading provider of security research, penetration test services, and source code review. More information on the test organization can be found at www.viris.si.
The full report from Viris is available upon request after signing a non-disclosure agreement
Are data centers physically secured?
Yes, more information is available on Microsoft 's website.
Does NiceLabel have access to my data in NiceLabel Cloud?
No. Your data is encrypted and can only be accessed with sufficient access rights. As a standard, neither NiceLabel nor your supplier have access rights.
You may provide your supplier of NiceLabel software with access rights, so that you can share label templates and collaborate on their design and approval.
Here's Microsoft's information regarding data accessibility.
Where can data for my labels come from?
With the NiceLabel Cloud Business and NiceLabel Cloud Compliance Editions, you get your own SQL Azure cloud database which you can configure to store the data for you labels.
If your data already resides in a 3rd party business system (ERP, MES, WMS) we recommend you integrate printing with that system using our integration system.
With NiceLabel Cloud Essentials you can simply use Excel and Access files which you store and manage in NiceLabel Cloud's document management system.
What is the IT architecture of NiceLabel Cloud?
NiceLabel Cloud includes:
A modern HTML web-based Document Management System that represents the heart of NiceLabel Cloud and stores all label documents and configurations in a central database. You can think of it as SharePoint for labeling.
An easy-to-use Label Designer that empowers business users to create labels without IT assistance. It comes with a familiar Microsoft Word-like user experience, so no IT and coding knowledge is needed to design labels. The designer also comes with an application builder that enables users to design special label printing forms or other label applications.
A Web Printing System that enables users to centrally manage all printing applications and easily deploy them to multiple sites, locations and third-party suppliers, contractors and vendors. With a single click, via a web browser.
An Integration system that integrates label printing with SAP or other business systems to increase label accuracy, printing efficiency and to establish a single source of truth for your labeling data.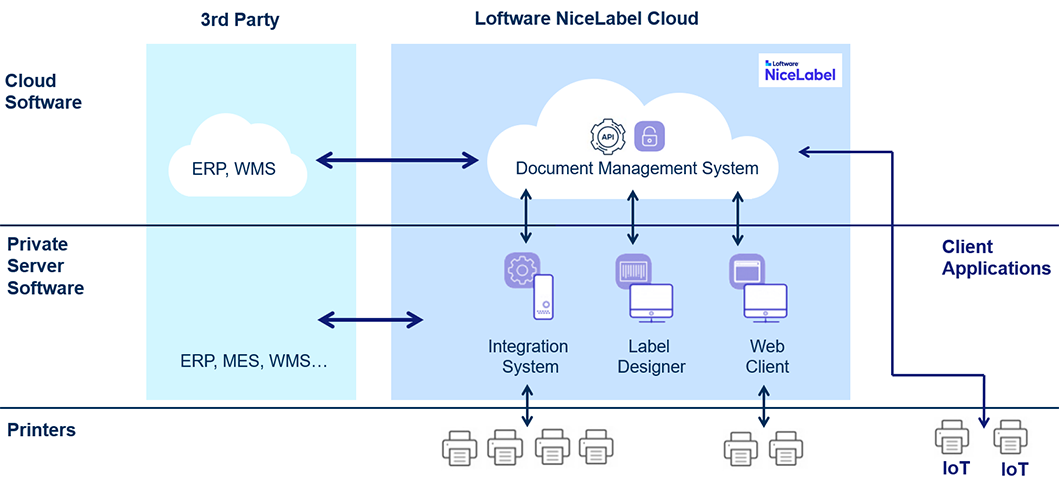 Can I use NiceLabel Cloud to print to my cloud-enabled printers?
Yes. Through NiceLabel's partnership with Zebra and Sato, NiceLabel Cloud works seamlessly with cloud-connected printers. You can print from your cloud-based business applications directly to your cloud-connected printers.
No local NiceLabel footprint, no local print servers and no printer driver installation and maintenance needed.