Loftware recognized for continued support to employees who serve in New Hampshire Air National Guard
Laura Hindley
PR & Content Manager
We're pleased to share the news that we've been recognized by the Employer Support of the Guard and Reserve (ESGR) for our continued support of the New Hampshire Air National Guard.
About the awards
Multiple Loftware employees including Bob O'Connor, President & CEO, Mark Wick, SVP of Software Development, and Jennifer Rhode, Director of Human Resources, were selected as winners of the Patriot Award for efforts made to support citizen warriors through a wide range of measures including flexible schedules, time off prior to and after deployment, caring for families, and granting leaves of absence if needed. Additionally, Loftware was awarded the Above and Beyond Award for its non-mandated assistance to veterans, such as differential or full pay to offset lost wages and extended health benefits.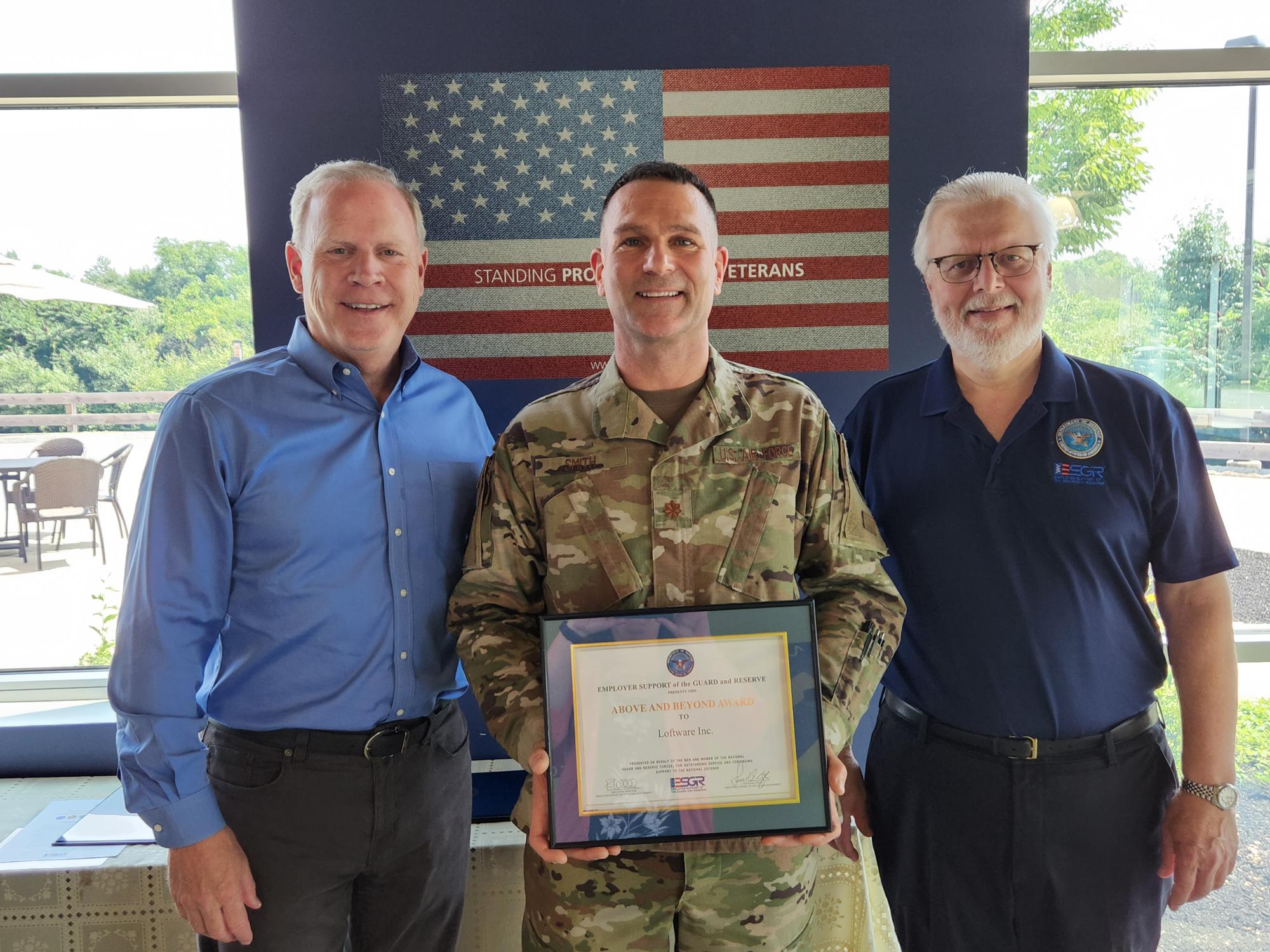 Above: Bob O'Connor of Loftware (left), Karl Smith of Loftware (middle), Michael Walzak of the ESGR (right)
Commenting on the win during a presentation ceremony at our Portsmouth, New Hampshire headquarters, O'Connor said: "We're proud to be recognized by the ESGR for our promise to support America's veterans. We stand by our company value of "take good care" and, as such, are committed to providing meaningful civilian employment for citizen warriors and their families."
What is the ESGR?
The ESGR is the lead U.S. Defense Department program promoting cooperation and understanding between civilian employers and their National Guard and Reserve employees. The ESGR has continued to adapt to meet the needs of Reserve Component members, their families, and America's employers by joining forces with a network of other national, state, and local government and professional trade organizations.
We're hiring!
If this news isn't exciting enough, we're delighted to be able to say that our award-winning team is hiring! We have several exciting job opportunities open and would encourage professionals of all backgrounds to apply. To find out more about existing employment opportunities at Loftware, please visit our careers page.