An interview with eChannelNews: The benefits of cloud-based labeling for channel partners
Laura Hindley
Senior PR & Communications Manager
Paul Vogt, Loftware's Director of Channel and Alliances Programs and Strategies, was recently interviewed by e-ChannelNews about the benefits of cloud-based labeling and how it can unlock new opportunities for channel partners.
The interview covered key findings from our '2022 Top 5 Trends in Labeling and Packaging Artwork' report, including the significant shift in business attitudes toward cloud technology over the last 12 months. Driven by the COVID-19 pandemic and recent supply chain crisis, businesses now recognize that labeling is no longer a tactical necessity, but an enabler for business growth and agile supply chain operations.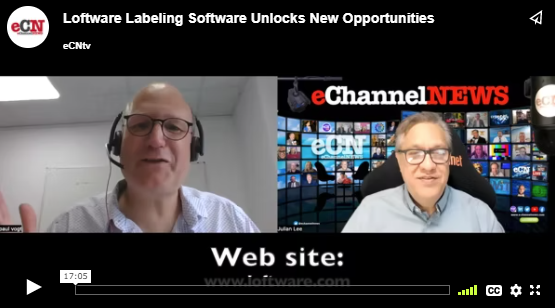 Above: Paul Vogt speaks to Julian Lee, e-ChannelNews publisher
The survey, which draws on insights from nearly 1,000 professionals across industries in 55 countries, revealed that 73% of end-users expect to have their labeling applications in the cloud in the next three years. So, if channel partners do not adopt soon, their competitors surely will.
Paul also discussed how the cloud offers channel partners ways to mitigate the risk associated with using outdated systems. Additionally, he explained how the cloud offers the channel an excellent opportunity to expand their business with existing customers and find completely new opportunities by:
Building a recurring revenue business
Giving them new insights into their customers' labeling business, which they can monetize
Offering new services to their customers, setting them up as a strategic business partner
Watch the full e-ChannelNews interview here.