Enterprise Labeling Maturity Model: How does your labeling stack up?
Laura Hindley
Senior PR & Communications Manager
Doing business across today's global supply chain has become a challenge. International regulations, global distribution channels, and evolving customer requirements are becoming the norm.
With this in mind, a cloud-based Enterprise Labeling solution – one that links labeling processes with business processes to drive speed, accuracy, and compliance – offers companies everything they need to deal with today's complex requirements.
Introducing the Enterprise Labeling Maturity Model
In order to build a roadmap toward labeling excellence, you must first understand the stages of labeling maturity. Fortunately, Loftware's Maturity Model for Enterprise Labeling offers just that - a framework for improvement in labeling throughout your organization. This model has been developed as a result of working with companies in the labeling space for more than 35 years to identify the most critical areas of development and growth when it comes to supply chain labeling and artwork management.
The five stages of Enterprise Labeling maturity
Not all businesses have the same labeling demands or progress at the same pace across the Enterprise Labeling continuum. Additionally, not all companies have the same global requirements, need to scale labeling, or increase capabilities to support evolving business demands. However, all businesses need to ensure that their labeling requirements are optimized for business and supply chain efficiency as well as future growth.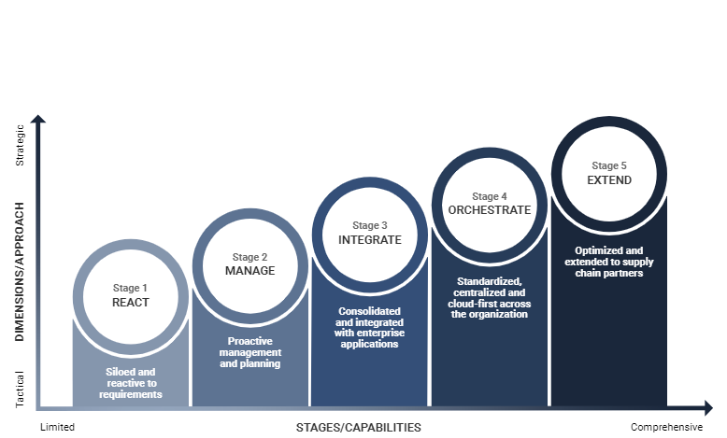 Above: Five stages of Enterprise Labeling maturity
Below is a brief summary of each maturity level:
Stage 1 – React to requirements. Companies at this stage tend to have manually driven processes and largely siloed initiatives which cause them to be reactionary in meeting their labeling demands. At this stage there is no integration or reliance on data exports from enterprise applications resulting in a lack of accuracy and consistency.
Stage 2 – Proactively manage and plan. Companies are working toward standardizing their labeling on one solution beginning to add some level of automation and are starting to embrace the benefits of the cloud. Labeling at this level takes more time and energy and maintenance to execute due to a lack of automation and standardization. Variable and dynamic content, as well as access to labeling, remain a challenge.
Stage 3 – Consolidate and integrate. The labeling function becomes integrated with data sources for increased accuracy and consistency while beginning to embrace a formal strategy for cloud deployment. Centralization becomes more of a focus while business logic begins to play an increasing role while more variable content is used. However, executive-level awareness of labeling and its importance is limited as is overall labeling visibility.
Stage 4 – Orchestrate across the organization. Labeling goes beyond integration and is standardized and centralized while a cloud-first approach to labeling has been adopted. At the same time, fully automated workflows and data-driven labeling capabilities are orchestrated across the full enterprise. Executive awareness of labeling increases along with increased visibility through business intelligence. Companies at this stage begin integrating and sharing content, processes, and workflows between Enterprise Labeling and Artwork Management.
Stage 5 – Optimize and extend beyond the company. Businesses begin extending their labeling and labeling processes beyond their organization. Labeling is highly automated and integrated to ensure accuracy and consistency while optimizing efficiency and resource costs. This stage, which includes both internal and external stakeholders, highlights the importance of labeling to the overall supply chain and enables companies to use cloud-based labeling as a competitive advantage.
Determine your stage of Enterprise Labeling maturity
Loftware's Enterprise Labeling Maturity Model assessment enables you to map out your current state and offers respective improvement measures, which can be taken to manage continuous improvement and budgetary support for your labeling. With a customized assessment report, you can measure the effectiveness of your labeling today and determine what capabilities are needed to increase labeling efficiencies and enable business transformation.