Loftware NiceLabel
Manage all your labels and printers centrally
NiceLabel's Document Management System stores all label documents and configurations in a central database. Use the DMS to move label design templates into production and automate the entire review and approval process. You can also manage all your printers, handling installation, updates and user access, from a central location.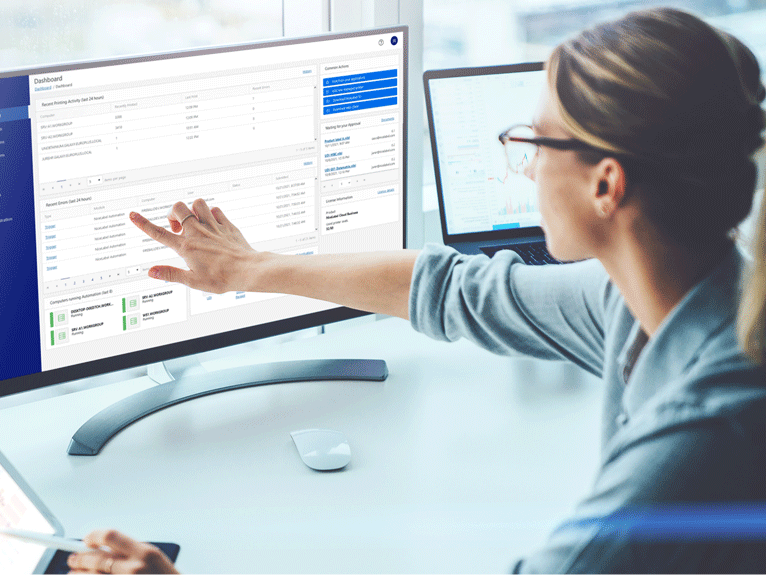 Label management made easy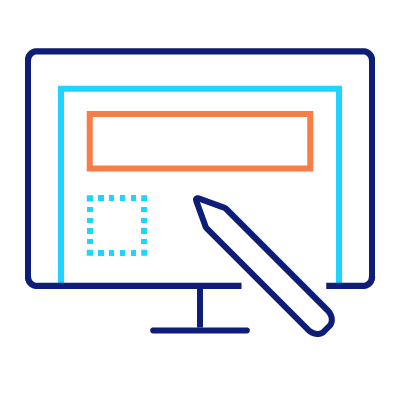 A modern HTML web-based application
Similar to Microsoft SharePoint, but built for labeling, the NiceLabel DMS offers an intuitive, easy approach to centrally controlling your entire labeling process.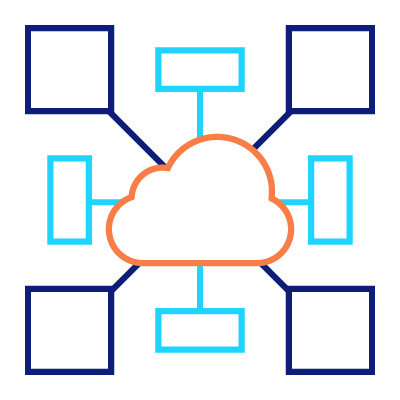 Store all your labels in one place
Store your labels centrally and access them anytime, anywhere. Eliminate data silos and avoid losing data and label templates.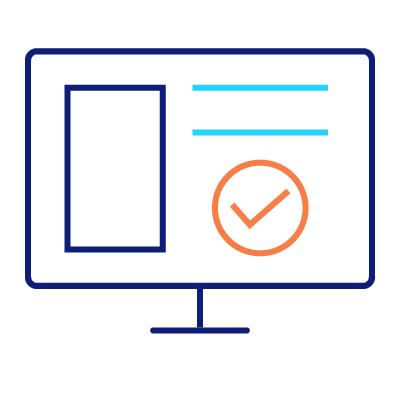 Improve quality assurance and reduce costs.
Eliminate paper-based processes to review and approve labels. Go from catching errors to preventing them.
Control who has access to what
Quality management systems and regulatory agencies often require comprehensive documentation and audit trails regarding your labeling processes. With NiceLabel, administrators get full control over who has access to specific labeling processes and can determine which level of access each user has. Role-based access control (RBAC) regulates access to documents and resources based on the roles of individual users. It is supported using Windows Active Directory authentication.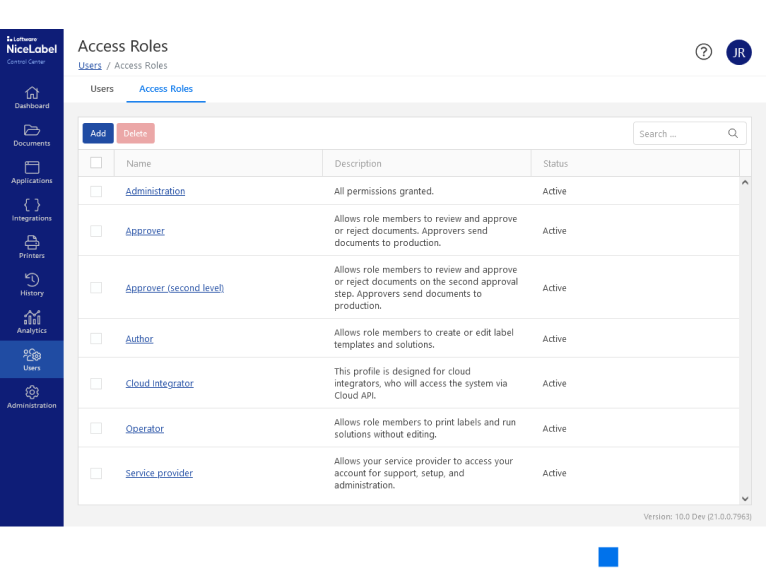 Digitize your review and approval process
You can manage the entire label review and approval process directly in the DMS. The publishing approval workflow automates the routing of label documents to quality control managers for review and approval. When a label is sent for review, the DMS automatically sends an email to each reviewer. They can then compare, approve and reject changes right in the system.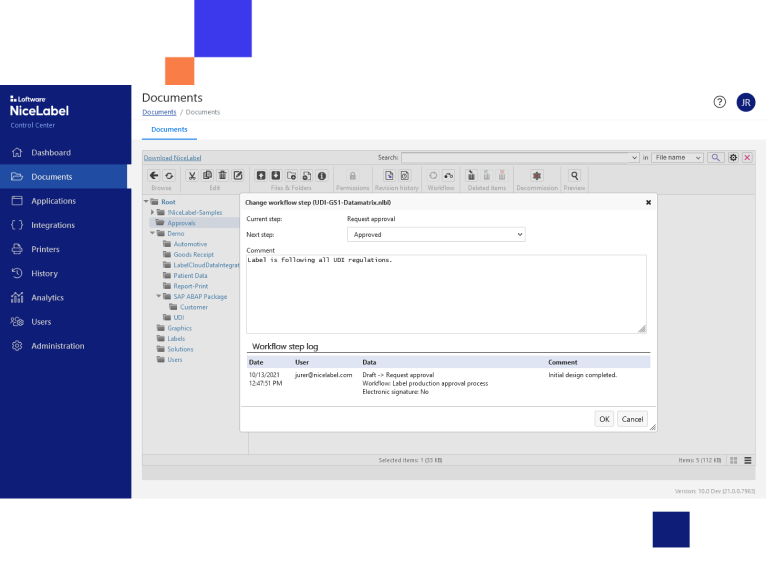 Spot label changes automatically
The DMS includes a label compare feature that automatically compares two label revisions and highlights the differences. This helps reviewers to quickly identify even minor changes and gives your organization a higher level of quality control. Go from catching errors to preventing them.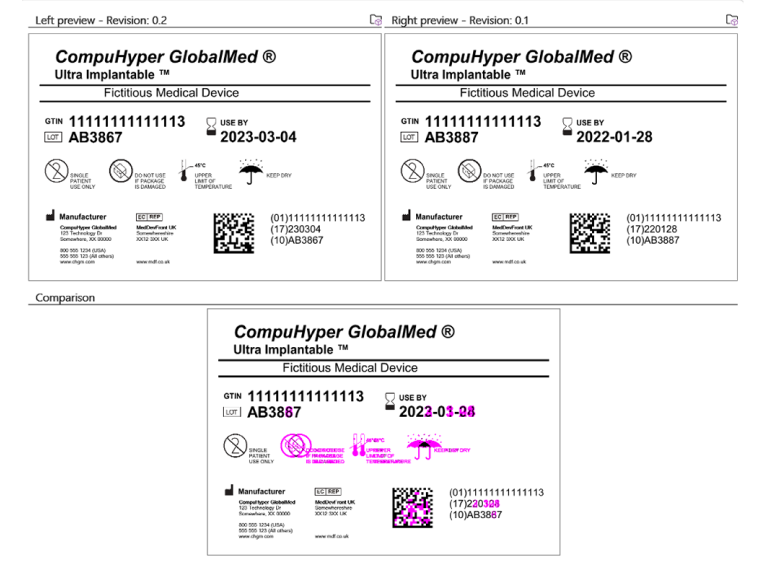 Review before you publish
Make label changes in a test environment and preview these changes before they go live in the production environment. This protects the core label data and ensures no unchecked changes are published in the live database. You get full control over how and when changes are published to make sure the information is correct and the organization is informed.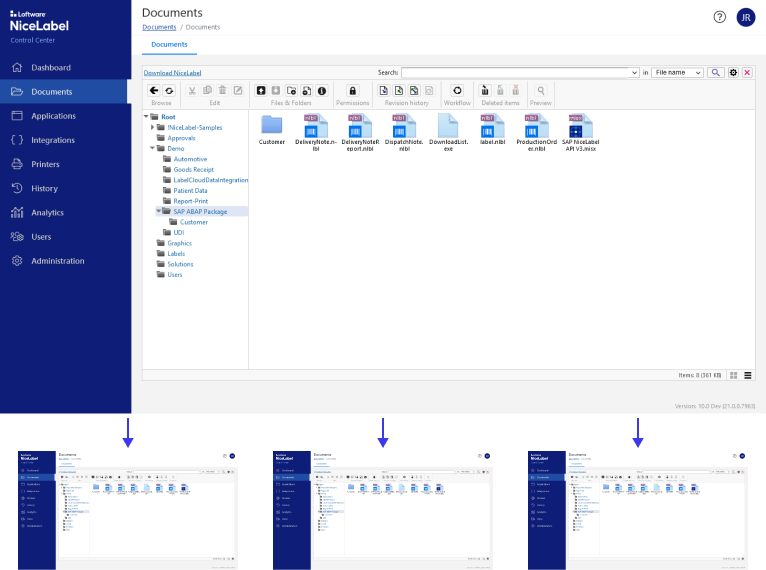 Comply with regulatory requirements
The DMS history feature keeps a graphical view and data record for every label ever printed across your entire organization. History also keeps records of all system errors, events and alerts. It provides the necessary audit trails and documentation to comply with regulatory requirements. The DMS reports feature gives you the information you need to improve and fine-tune your production processes and compare the workload across servers, users and printers.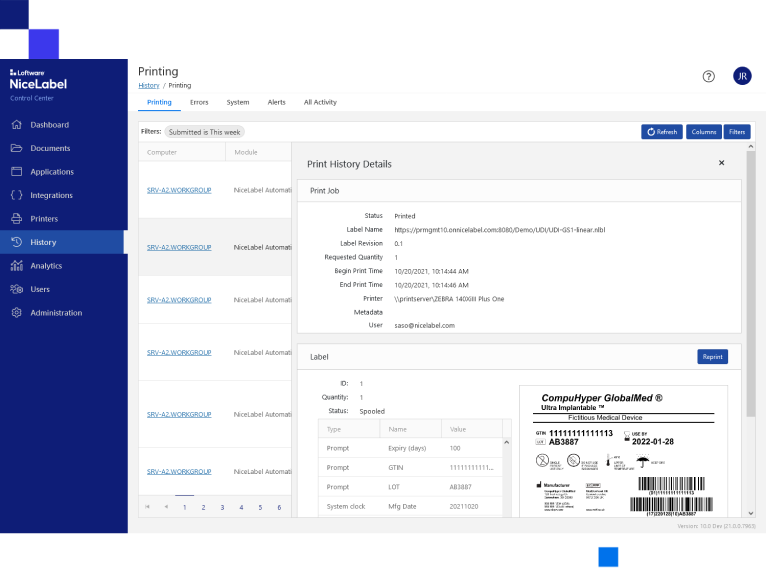 Reduce label duplication
All elements contained in the label template are indexed so business users can quickly find, visually compare and modify templates. Searches cover the entire database, helping you avoid redundant or duplicated label variations.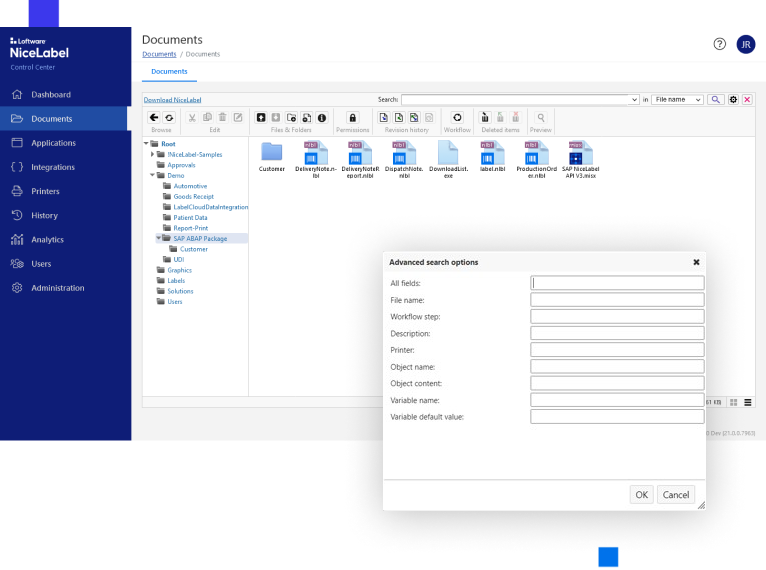 Manage your printers remotely
Labels aren't the only thing you can manage from one place. NiceLabel web-based printer management simplifies printer administration and reduces demands on IT. You can manage all your printers, handling installation, updates and user access, from a central location.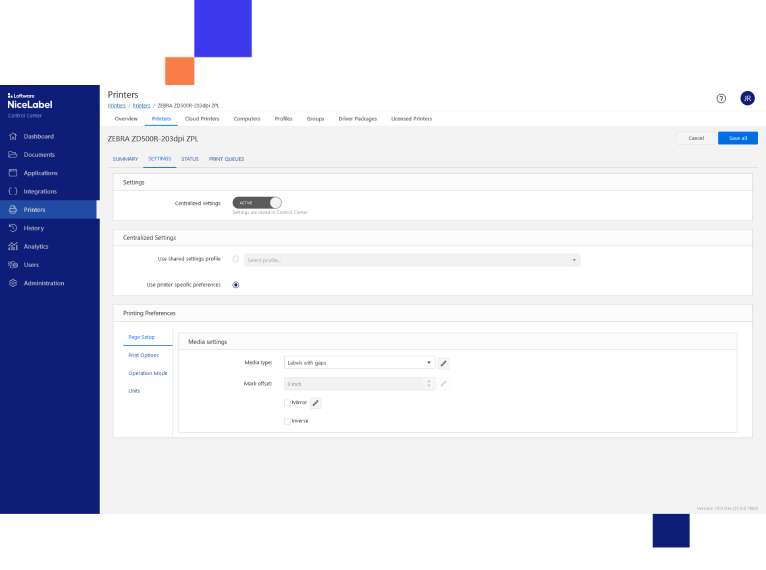 Analyze your label process
NiceLabel Analytics offers real time, advanced reporting to help you understand and improve your label printing process. Find out how many labels you're printing, which templates you're using, how your printers are performing, and more – all from one easy-to-use interface.